What are the benefits of Homeopathy?
Homeopathic products are natural and work with the body's natural defense system.
How do I choose the right homeopathic remedy
combination?
We name our products to describe what they treat. If you find several options for your symptoms, we suggest reading the labeled uses of the product along with the purposes of the active ingredients to aid in your selection. We encourage you to learn about the purposes of the active ingredients as a means of taking charge of your well-being and creating the best possible health for yourself and all your family members.

If you are interested in learning more about our Hyland's medicines or homeopathy in general, please do not hesitate to contact us either by phone at 1 (800) 624-9659 to speak with a member of our Product Information Service, or by chat or email at info@hylands.com
How do the potencies work in homeopathy?

That's a big question. In a nutshell, a homeopathic medicine is believed to be more effective when its active ingredient is crushed or ground up, diluted, and then succussed. This is the minimum dose approach of homeopathy. The purpose of potency is to dilute the active ingredient until it can do no harm and to invigorate the base substance with energy from the grinding and succussions such that the qualities are preserved while the bulk substance itself is diluted.

On a homeopathic drug label, the drug strength or potency appears directly after the name of the active ingredient. Unlike conventional medicines that typically report drug potency in milligrams, our homeopathic drug potency is indicated by a numeral followed by an X or C. The potency of a medicine, such as "6X" or "30C," says how many times and by what ratio the base substance has been diluted. While counterintuitive, the potency is higher though the concentration of the active ingredient is lower. This is an abbreviated explanation; more information can be found at the National Center for Homeopathy www.homeopathycenter.org.
How to read Hyland's Drug Facts panel,
and where to find other important information?
1. Active Ingredients
In the tradition of homeopathic medicines, our ingredients are listed by their Latin names. Eighty percent of our active ingredients come from plants, about 15 percent are derived from minerals, and the rest come from other natural sources.

2. The Potencies
Like "3X" and "6X," the potency of the particular active ingredient is indicated by the number and letter combination listed next to the ingredient (see "Understanding homeopathic drug potency"). The higher the number, the higher the potency. But even our highest potencies result in only trace amounts of the active ingredients used in the medicine, thus ensuring a wide high margin of safety.

3. HPUS
This acronym stands for Homeopathic Pharmacopoeia of the United States, indicating that the medicine is listed in this FDA-recognized compendium and that it's preparation follows the HPUS rules.

4. Purpose
The purpose of each active ingredient is listed following its Latin name. It describes the symptoms that each ingredient treats. In choosing a homeopathic medicine, the key is to get as close a match as possible between the symptoms you are experiencing and the symptoms that the active ingredients in the medicine address.

5. Uses
The "Uses" section summarizes the overall ailment for which the medicine is formulated.

6. Warnings
This section highlights any drug interactions and specifies the duration of acceptable treatment, maximum doses per period, symptoms to look for that may mean that medical help is required, as well as any other warnings such as allergies required for safe use of the product.

7. In Case of Emergency or accidental overdose,
Contact a medical professional or Poison Control Center immediately. Hyland's may also be contacted for emergency information about our products 24 hours a day, 7 days a week at 800-624-9659.

8. Directions
We recommend following the directions as listed on the label for the best possible results. For acute ailments, the directions often instruct you to dose "as needed," which means you should dose only until symptoms are relieved. Only repeat a dose if symptoms get worse again. As with all medicinal products, contact your health care provider if symptoms worsen or continue unimproved for more than 7 days or the recommended number of days on the label for the particular product that you are using.

9. Inactive Ingredients
All of Hyland's products have the inactive ingredients listed on the label. An example of an inactive ingredient is Lactose. All of Hyland's tablets and caplets contain the inactive ingredient Lactose N.F. The "N.F." stands for National Formulary, indicating pharmaceutical grade lactose, which is milk sugar from cow's milk completely purified of milk proteins. For specific questions about inactive ingredients, customers can contact Hyland's directly at 1-800-624-9659 or at www.hylands.com.

10. Lot Number
The 6-digit number printed or imprinted on the bottle label is the lot number. It allows us to track the complete history of our drug products. The same lot number can also be found on the side panel or bottom of the outer carton.
Yes. Homeopathic medicines are regulated as drugs by the FDA and our manufacturing facilities are inspected by FDA for compliance with current Good Manufacturing Practices (cGMP). All our homeopathic medicines also follow the manufacturing and quality practices outlined in the Homeopathic Pharmacopoeia of the United States. Note that the claims for our products are based on traditional homeopathic practice, they are not reviewed or approved by the FDA
Are these herbal supplements?
No, they are not herbs, they are homeopathic medicines. Herbs use a larger quantity of plant material per dose and are not diluted and successed in the homeopathic method. Homeopathic medicines use a small dose of plant or mineral substance to address symptoms. Unlike herbal supplements which are regulated as supplements, the FDA regulates homeopathic products as drugs. As drugs, homeopathic medicines must be manufactured in compliance with the FDA finished pharmaceutical Good Manufacturing Practices (GMPs) regulations for cleanliness, quality and testing. All Hyland's manufacturing facilities are inspected by the FDA.
Can homeopathic medicines be
taken with other medicine?
Yes. In general, homeopathic medicines have no-known drug interactions with conventional medicines. It is acceptable to use other medications together with the homeopathic medicines, if necessary. We recommend taking your other medications at least 15 minutes apart from the homeopathic medicines. If you would like to inquire about a specific medication, please call 800.624.9659 to speak with a member of our Product Information Team.
I am lactose intolerant. Can I take these products?
In general, yes. The inactive ingredient our Hyland's medicines in tablet form contain "Lactose N.F." (stands for "National Formulary"), is a pharmaceutical grade lactose. While it is formulated from cow's milk, it is completely purified of milk proteins, making it safe for milk protein/casein allergic people, including infants and children. If you are interested in learning more about Hyland's medicines, call us today at 1 (800) 624-9659 to speak with a member of our Product Information Service.

While Hyland's tablets provide a large margin of safety in lactose content if you are very concerned, seek the advice of a licensed health care professional before using this product. If your physician has determined that you/your baby specifically "Allergic to Lactose", you should avoid our tablets.
Where can I buy Hyland's products?
Hyland's products are available at chain drug stores and mass merchandisers nationwide and local health food stores and pharmacies.

If you would like to find Hyland's products locally, you can contact our Concierge Service online with Live Chat in the bottom right corner of this page, by email at info@hylands.com, or by phone at (800) 624-9659 to help you find a product. Business hours: M-F 9:00am – 5:30pm Eastern Time.
Do your products carry an
expiration date?
No. In the US, the FDA has exempted homeopathic manufacturers from putting expiration dates on their product labels. Although, nothing lasts forever, when stored properly (away from moisture and excessive heat or cold), homeopathic medicines can be used for many years. If you notice the appearance of the medicine has changed, you should replace it.

If you're interested in knowing when the product you have was manufactured, you can call our customer service line at 800.624.9659 and provide the lot number (the imprinted 6 digit number on the bottle, for example B27814). We use that number to track each product we make in our facility.
What is the 6-digit number on the bottle label 
and outer carton?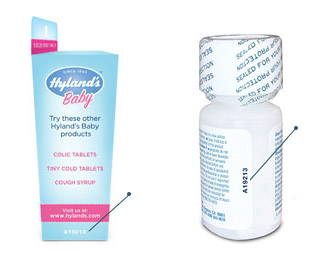 The 6-digit number printed or imprinted on the bottle label is the lot number. It allows us to track the complete history of our drug products. The same lot number can also be found on the side panel or bottom of the outer carton.
Can pregnant and/or breastfeeding women use your
products?
We cannot recommend doing so. The FDA requires that all OTC medicine manufacturers tell consumers to check with their physician before using any OTC drug if they are pregnant or nursing. No formal studies have been conducted to test the safety of homeopathic medicines in pregnant and/or breastfeeding women.


My child just ate an entire bottle of tablets,
what doI do?
Do not panic. Homeopathic medicines are safe, non-toxic, and have a very wide margin of safety. It is unlikely that your child could become seriously ill just from taking a large number of the tablets at one time. Our products are also listed with Regional Poison Control Centers. Most are informed of the wide margin of safety of homeopathic medicines. However, if your child does develop symptoms that concern you, please consult your own physician or healthcare provider right away.

Who can I talk to for more technical information
about Hyland's products?
For more technical in-depth information regarding our products, we offer a Product Information Service that is staffed by Healthcare Professionals. Our Product Information Specialists can be reached at 800.624.9659. Please not we cannot prescribe nor offer medical advice but will be happy to answer your questions regarding our products and Homeopathy in general.

Email: Please use our contact form - and choose Technical Information from the drop down.

Telephone: 1 (800) 624-9659

What are the different dosage
forms?
Hyland's offers 5 different dosage forms: soft quick-dissolving triturated tablets, compressed tablets, caplets, liquids, and topicals (gels and ointments).

Homeopathic medicines work when taken orally (by mouth) or when used topically (on the skin).

Soft Quick-Dissolving Triturated Tablets are soft molded tablets. They dissolve almost instantly when you put them in your mouth because they contain only the active ingredients in a base of lactose with a small amount of acacia gum to hold them together. An example of soft tablet triturates is Hyland's Baby Oral Pain Relief and Leg Cramps.

Compressed Tablets are hard tablets that do not dissolve instantly when put in your mouth. These are often meant to be swallowed with water because they take too long to dissolve under the tongue. An example of a compressed tablet is Hyland's Calms Forté™.

Caplets are hard, oval shaped tablets that do not dissolve instantly when put on your tongue. They are meant to be swallowed with water, which is facilitated by the oval shape. An example of a caplet is the Hyland's Leg Cramps Caplet.

Liquids can be taken orally or used externally, depending on the use of the product. For instance, Hyland's Cold 'n Cough Syrups are to be taken orally, while Hyland's Earache Drops are to be applied in the affected ear.

Topicals are applied directly to the skin to stimulate healing "on the spot." We have ointments such as Hyland's Leg Cramps Ointment or gels such as Muscle Therapy Gel with Arnica.


Where can I learn more about homeopathy?
There are thousands of educational books available from StandardBooksTM and many courses available through the International Foundation for Homeopathy and the National Center for Homeopathy.

For more details regarding classes and educational programs, you can contact the following organizations

National Center for Homeopathy
801 North Fairfax Street, Suite 306
Alexandria, VA 22314 (703) 548-7790
http://www.homeopathic.org

The Homeopathic Pharmacopoeia of the United States
http://www.hpus.com

Homeopathy Research Institute
International House
142 Cromwell Road,
Kensington, London, England SW7 4EF
www.hri-research.org

Homéopathie International
http://homeoint.org/english/

Where can I find a homeopathic practitioner near me?
This website provides a Zip Code and City search to help you find a homeopathic practitioner in your area:

The National Center for Homeopathy - http://www.nationalcenterforhomeopathy.org/resources/practitioners.

My tablets are discolored with grey
or black spots that look like mold.
DO NOT use that bottle of tablets. It appears that the bottle of Hyland's tablets that you have has become moldy. If the homeopathic tablets have become moldy, it means that moisture and mold spores have somehow entered in the bottle of tablets. Given our experience, moldy tablets are due to people touching the tablets with their hands and putting them back into the bottle.

We do not use preservatives in our tablets, so touching them can contaminate them with bacteria, mold or other microorganisms.

When administering the tablets, it is best to shake the tablets into the bottle cap, and then tip them directly into your mouth without touching the cap to your mouth in order to avoid introducing saliva into the cap or bottle. Also, the tablets should be stored in a cool, dry place, away from any excessive heat or moisture. A bathroom, because of its moist environment, would not be a good place to store Hyland's homeopathic tablets. If the tablets are discolored upon the first opening of the bottle, please call Hyland's customer service at 1 (800) 624-9659.